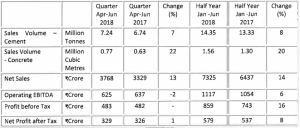 Highlights of April-June 2018
Cement Volume growth at 7%
RMX volume growth at 22%
Net Sales up by 13% to R3768 Cr
Operating EBITDA improved by 5% to R669 Cr(excluding employee separation cost of R44 Cr)
"We have achieved robust scale in Q2 2018, growing both cement and the ready mix concrete business by
7% and 22% respectively, as well as delivering a consolidated EBITDA growth of 5% YoY. On the other
hand, cost headwinds continue, driven by the rise in input material and logistics costs. The positive
impacts of our step change in cost management are favorably impacting our financial results. We remain
optimistic in our capacity to develop new revenue lines as wellas strengthen our performance in both the
cement and ready mix business", said NeerajAkhoury, Managing Director & CEO.
Performance
Cement volume grewina sustained mannerat7%. NetSales duringthequarter wentup by13% to
R 3768 Crore compared to K 3329 Crore for the same quarter last year.
The Company continues to focus on enhancing operational efficiencies, reducing costs and improving
productivity. Benefits from operational efficiencies and productivity as well as other cost reduction
measures have helped to partly neutralize the effect of increases in fuel and slag prices. Fixed cost and
Selling, General& Administrative(SG&A) costs were reduced on a comparable basis YoY.
The company increased its Ready Mix Concrete footprint with the installation of new plants to capitalize
on the rapid growth in cities across regions.